JBWOOD
CAST GLASS SCULPTURE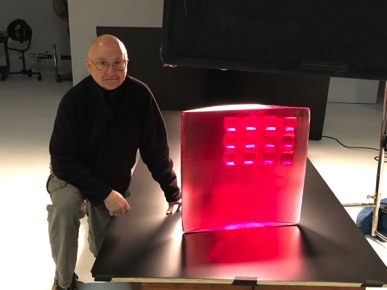 BIOGRAPHY
BORN:
March 1944
EDUCATED:
Ohio State University
Stanford University
College for Creative Studies
BACKGROUND:
Automotive Industry
Glass Collector
Artist
INTERESTS:
Science
Science Fiction
Bonsai
Sailing
Good Wine
PASSIONS:
Connie (wife!)
Large-scale, cast glass sculpture
EXHIBITS/COLLECTIONS:
Habatat Galleries (Michigan/Florida)
Seven Bridges Foundation
Corporate & Private Collections, Worldwide
PUBLICATIONS:
"Earth Art and Glass Sculpture: 2011"
"Recent Work: 2007-2008"
"JBWood - The CCS Years."
"Marbles by Matthews"
BROWSE ART
NEXT EXHIBITS
1. U of M Dearborn - ONE MAN SHOW (April 28-August 12)
2. Habatat International (April 28)
3. University of Michigan (Aug 6.)




"Color is my day-long obsession, joy, and torment." - Claude Monet
"Colors are forces, radiant energies that affect us positively or negatively, whether we are aware of it or not." - Johannes Itten

Since graduation from the College for
Creative Studies in 2006, three
themes have emerged in my more
recent work:
1. An exploration of color enabled by dimensional form, 2. An absolute fascination with the land art of the 1970s,
and
3. The role of process and chance in the creation of
visual complexity.
This website illustrates these three "creative imperatives" in the form of new glass sculptures created during the last two-three years.
Check out especially the new 12 Cubes on Mars" (above), the "Cut Cube" Series and "Archeological Series" (right). "Blue Cut Cube - Winter" was featured on the cover of the April 2014 Art and Antiques Magazine -- see web reference below:
http://www.artandantiquesmag.com/2014/04/glass-artists/.
"Red Cut Cube - Autumn", shown opposite is the latest creation in the "Four Seasons Series"
"Artifact No.2, Dover: Flint and Chalk", and "Ancient One" are just to the right here. Click on these pictures to see more of this newest series. Both these new series can be seen under the "Series" tab.
Also, Look for me at my One Man Show April 28-August 12 at the Univerrsity of Michigan - Dearborn, Stamelous Gallery. Open/Close party August 6, 2022.
JBWood Mar. 2022