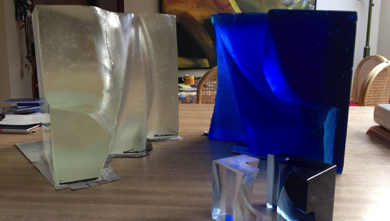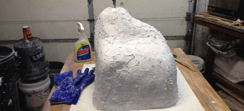 A Question I was Recently Asked Was:
"Looking beyond the Glass Community, where would I place myself and work in the greater spectrum of the "artworld" and why?"
This is an interesting question, both personally, and for the "Glass Movement" in general. For about fifty years the studio glass movement has been largely content to go it's own way.
It was held together by a belief in glass as an appropriate and avant-garde medium of "artistic" expression, by a largely-insular collector-base subculture, and by a limited, but international, number of material-exclusive galleries.
Despite aspirations to be recognized as a full-grown art form, the medium to date has, to a significant extent, been excluded from the larger artworld. Why now the need to find a place?
I've always thought The "Glass Movement" is best understood as another in the long line of, possibly short-lived, modern art movements, such as Pop Art – that, at its heart, is inherently Cubist in multiplicity of view and dimension.
The Glass Movement did not initially require or seek institutional recognition, but as the movement evolved beyond it's craft origins, the collector support group aged, and the Gallery marketing system matured, institutional approbation has increasingly been sought to broaden the collector group and the movement's reach.
Fifty years later, the movement is at a cusp. Public recognition of "glass art", spurred by the general acceptance of Dale Chihuly's mass marketing of the medium, is at a high point not seen for perhaps a hundred years. The question remains however, will the dominant museum-led institutional definition of "art" include glass in its ranks of recognized artistic mediums? Or has the Glass Movement seen it's peak, and is inevitably destined to be relegated to just one more material among a universe of possible mediums for artistic expression? The jury is out, but I am hopeful. The quality and diversity of work now being produced can not be denied.
As for myself, if I must place my work somewhere in the artworld, I think of myself as reflective of a combination of influences of The Modern Age: Fauvist in color sensibility, Cubist in multiplicity of viewpoint, and Abstract Expressionist in spirit.
But I don't need a place in "artworld". I just need the inestimable joy of creation, of moving that initial whisper of an idea, from concept to reality, in a medium that always surprises me with voice of its own. That's my artworld, and it is sufficient.